CAT Preparation: The Do's and Don'ts
Rahul Singh
CAT Preparation: The do's and don'ts
IS CAT EASY??
CAT is considered to be one of the most sought after exams to get into an IIM or any other prestigious B School. But to reach that milestone one needs to carefully devise a strategy and a plan of action to not only crack the exam but also to get a score of 90 percentile and above. For this, you have to create a checklist of Do's and Don'ts and strictly adhere to it. The journey through CAT preparation will not be easy, the constant juggling between what to prepare, how to crack CAT, and many more questions like that will leave you disturbed but trust me with the right strategy for preparation you will surely come out with flying colours.
Join our CAT courses for preparation
So here is a list of how one should master his/her game:
Learn from CAT Toppers and complete your IIM dream come true!!
CAT Preparation: The DO'S
1. Syllabus and paper pattern for CAT preparation
The beginning should involve the correct realization of syllabus and paper pattern so that your efforts don't go in vein.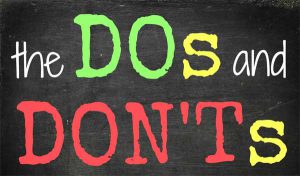 a) Concept building – The basics
Then comes the Concept building exercise. It is very important to understand the basics and concepts for different sections of CAT i.e. Quantitative Aptitude, Verbal Ability, Logical Reasoning, and Data Interpretation. However most of the concept building exercise is required for the Quant section, other parts also need a dedicated time slot from your preparation calendar. To get a hold on LR and DI sections make sure to practice a different set of questions. Similarly, to excel in the Reading comprehension section the only way out is to Read, Read, and Read more and more. Try to cover topics from different areas like sociology, politics, economy, psychology, art, history, science, and technology which will give you more insights. You can also go through editorials in newspapers and read informational blogs.
That is how one needs to prepare a study plan as per ones ability.
2. Strong and weak areas
The second thing in the to-do checklist is to identify the strong and weak areas, the section which needs more attention and time. Identifying the misfit and carefully deleting those gaps will be beneficial. This helps in time allocation which is an important step towards scoring high in CAT.
3. Mock tests
The third step would be to solve mock tests. This will help you analyze and test your accuracy, time management, pain points and you can further improvise your learning plan. To ensure that you don't forget what you have learned and prepared so far, you need to constantly revise your notes and concepts.
4. CAT Preparation with past years papers
The next step in your to-do preparation list should revolve around solving previous years' papers which will give a hang of how exactly the paper pattern is and how you should customize your approach towards solving them.
Also Read: Cracking CAT is Smart Work or Hard Work?
In short, be focused, analyze your performance, and previous mocks that you have given and learn from those mistakes, and also learn proper time management to score well. It is very important to do a self-reality check. Make time to have a weekly review of your preparation journey and what key milestones you have achieved so far and what are yet to be achieved.
5. Online discussion forum
Another step that you should take is to join an online discussion forum where you can discuss your ideas and clear your doubts. This way you can take the help of other person's expertise to add to your benefits. Then you must get in touch with CAT toppers, learn from their experiences, how they appeared for their exam, what were their key learnings and get inspired to achieve your goals.
Moreover, the CAT exam is of three-hour duration so you need to keep yourself mentally and physically fit as well to perform better.
So we have looked at our To-Do list but there are certain key points which are a part of your Don'ts list.
CAT Preparation: The DON'TS
1. Quality and variety of questions matter a lot for CAT Preparation: 
Quality is better than quantity so make sure that you don't focus only on the same type of questions just to feel good. Rather try and cover a different set of questions to get the flavor of all possibilities.
Also Read: How to increase accuracy in Mock Tests
2. Don't let your health hamper
Do not indulge in any such activity which may hamper your mental and physical health.
Do not get stressed while preparation or anywhere during your journey. A last-minute breakdown will result in all your preparation going down the drain.
Do not let your panic button to get switched ON under any circumstances. Keep your morale and confidence intact while preparing for CAT.
3. Keep focus and don't distract yourself
Do not lose your focus and distract yourself by what others are doing. Stop comparing yourself with others; they have followed a different path and strategy.
Do not get overwhelmed by scoring more in mock tests, you may fall into the trap of overconfidence.
4. Don't over-analyze your mocks
Also, do not over-analyze your mock scores and assume them to be perfectly fit to determine your actual scores. However, do keep track of your performance trend and keep going.
5. Don't invest too much time on one question 
Do not waste time; if you are stuck at a question do not spend much time on it. Instead, proceed with the next set of questions and discuss the previous question with the right set of people who were able to solve this, or you may discuss it in online forums as well.
6. Stop procrastinating and start solving
This is the most common problem not only MBA aspirants but everyone faces. To overcome this, you should give yourself small breaks in between your study plan and commit to working hard while studying. You may find it difficult in the beginning but eventually, you will develop this art of working with concentration.
Do not postpone things assuming that you have the next day in front of you. This will only pile up your work and create a last-minute burden. You will eventually end up skipping and missing some topics while just glancing through the others.
Do not waste too much time in group studies, you will end up losing track of time, and self-study will be affected.
Do not burn your opportunities for temporary comfort; you actually need to fight through hard days to earn the best day of your life, your dream of getting into an IIM.
CAT exam sections:
VARC – Verbal Ability and Reading Comprehensions
DILR – Data Interpretation and Logical Reasoning
QA – Quantitative Ability
In the end, I would like to say, "When you want to succeed as bad as you want to breathe, then you will be successful".
Keep going and happy learning
I wish you all the best. Happy Preparation!
Related Articles:
Tips to improve Logical Reasoning