GRE Exam Dates: How to Find the Best GRE Date for You, GRE 2020
Aishwarya Pandey
GRE Exam Dates: How to Find the Best GRE Date for You, GRE 2020
The Graduate Record Examination (GRE) is a standardized test issued by the ETS (Educational Testing Services). Throughout the year for students and professionals aspiring to pursue higher studies abroad. The GRE is a common platform for test-takers applying for Master's or Ph.D. coming from different backgrounds. The graduate school admission process can be confusing under the best of circumstances, and the variety of GRE test dates can be difficult to navigate. The test is not a measure of their individual technical knowledge but rather of skills, based on their fundamental language and numerical reasoning abilities which are been thought during their high school studies. Here, you can find all the necessary information that might help you choose the right GRE dates.
Time Distribution for different subjects.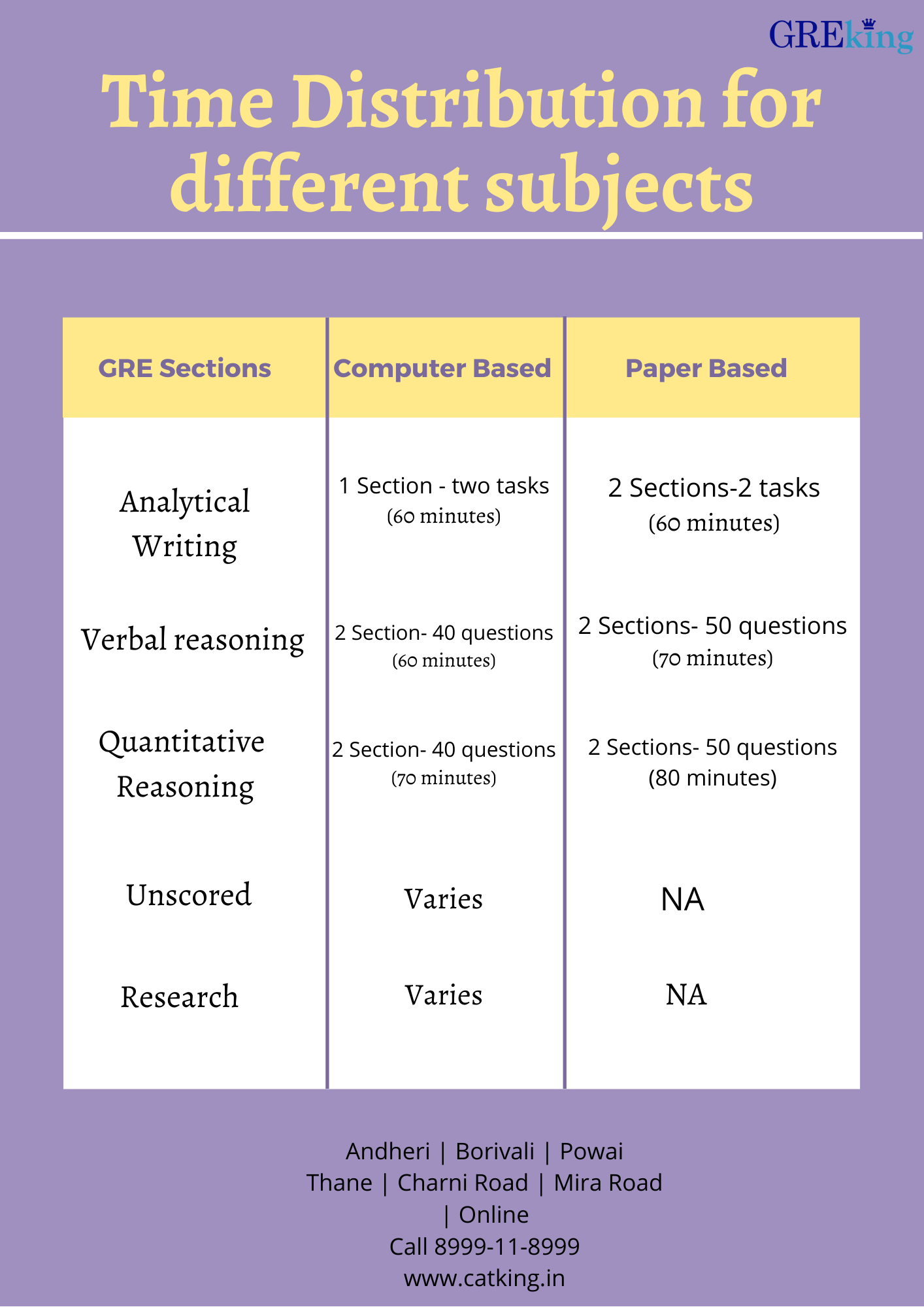 The exact GRE dates depend on what type of GRE you are going to take.
The ETS offers the GRE Exam in two formats:
Computer-delivered GRE General Test(online)
Paper-delivered GRE General Test(on paper)
Computer-delivered GRE General Test:
The computer-based tests are conducted throughout the year at Prometric test centers and sometimes even outside the Prometric network. You can take the test up to five times in a year, with a gap of at least 21 days in between attempts. Most people opt to take the Online test.  Keep in mind; it might be tough to get an appointment at your nearest GRE testing center during the peak application season, it's always a smart decision to book your slot well in advance. This might also help you with your preparation because until and unless your date is booked, you would not get the motivation to start your preparation.
Online tests are available on most days. That said, this doesn't mean you'll necessarily be able to sign up on any day you want. It takes around 10 to 15 days to send your test reports to universities and for the universities to process them, so select your test date accordingly.
The GRE Exam General test offers test-takers some very handy features, such as:
Preview and Review options in each section
A Mark and Review option within a section
An on-screen calculator, which you can use on the Quantitative part of the test, and a timer so that you don't lose track of how much time you have left.
The freedom to go forward and backward and skip or flag questions for review
Rescheduling your Test Registration
You must reschedule your GRE Subject Test no later than four days before your test date or your test fee will be forfeited. For example, the deadline to reschedule a Saturday appointment is Tuesday.
The fee to reschedule your test registration is US$50.
Rescheduling is permitted in the same testing year (July 1–June 30).
Testing fees and registrations are not exchangeable between the GRE Subject Tests and GRE General Test.
Paper-delivered GRE General test :
The Paper-delivered GRE General test is only available in those areas of the world where the computer-delivered test is not available. Paper-based tests are typically offered twice a year in November and February.
 GRE TEST COST :
The cost for the standard administration of the GRE general test is $205 for most areas.  Australia, China, Nigeria, and Turkey have higher fees ranging from $226 to $255. The standard cost for the GRE Subject Tests is $150 worldwide.   Additional fees are required for items such as late registration, standby testing, rescheduling, changing your test center, or changing your Subject Test. These additional fees are typically between $25 and $50.
Which GRE test dates are the best?
When you should take the GRE is entirely up to you. The test results are good for up to five years, so it's not a good move to take it too early. But under most circumstances, most of the students prefer taking it in the last year of undergraduate education.
If you're trying to enter grad school in the fall of 2021, you'll need to take the test as soon as possible. But keep in mind that you'll still need time to study. Also, if you do badly, you may want to re-take the GRE test, which requires a wait of 21 days. This can put you in a bind. Look at your school's application deadline, and plan accordingly.
If you're planning to enter grad school in the spring of 2022, you have a bit more flexibility. One option is to give yourself until the end of the year, so you'll have as much time as possible to prepare. That said, you might want to take the GRE in fall instead of winter. This way, you'll have plenty of time to retake the test if you're not happy with your score.
What is GRE Score Select Option and How is it beneficial?
Your GRE score is valid for five years from the date of taking the test, and you can take the test any number of times in between. The GRE Score select option gives you the flexibility of sending the highest score of yours to the universities you wish to apply to.
For example, if you take the test in March, and score a 321, and you retake it the following month score a 315, you can take the benefit of the GRE's Score Select option to send your higher score of 321 to the graduate schools you want to apply to.
Raw score VS Official score
There are two different types of scores for the Computer-delivered GRE Exam – one is the score you get right after your test gets over, called the 'Raw score', and the other is the official score which is sent to you after 4 to 5 weeks. You can send the raw score (which is the number of questions you've answered correctly) to four graduate schools without any extra fee. You can also send your test score after the test but for every additional scorecard, you have to pay an additional fee.
How to make a perfect GRE timeline and how to prepare for it?
To make a perfect GRE timeline, let's look at an example that will make you clearly understand. Say, a person named 'A' wants to apply for the fall intake. Most universities in the U.S. have their deadlines in December and January, with their early application deadlines being in October and November.
So, 'A' has to apply to his dream universities latest by December. Ideally, he has to finalize his documents and ready his application for the universities by November and to do that he has to start writing SOP three months before that, i.e., August. He has to write the SOP according to the specific requirements of the universities and courses he is applying for, which means that he should have completed the university shortlisting process by July. According to an ideal timeline, he should have taken his GRE by June and for that, he should have started his preparation 3-4 months in advance. That is, he should have started his GRE preparation from February or March.
So, it could be said that a perfect admissions timeline would be a span of 9 months that is from February to November, for students applying for the fall intake.
The most crucial thing which you have to remember during your preparation is
Analyze where you stand
Target score
Success Mantra
Practice More!
Being realistic –Managing your other Commitments
All the best!