IIM Bodh Gaya Management Conference 2021
Anisha Mukhija
IIM Bodh Gaya Management Conference 2021
IIM Bodh Gaya organized its maiden edition of the International Management Conference on 23rd and 24th April 2021. The conference's theme was "Post COVID Management Strategies: Recovery, Resilience, and Adaptation."  In these challenging times, IIM Bodhgaya conducted the virtual conference with the thought that "this is the time for us to recover, become resilient, and adapt to the new normal."  Amidst a plethora of colossal challenges, business leaders, policymakers, and management gurus are under extraordinary pressure to re-think strategies for recovery, building resilience, and adaptation to the new normal. More than 275 papers were presented at the conference, and various eminent speakers graced the event.
Start your Preparation with CAT online Courses
A two-day pre-conference workshop preceded the conference. The workshop conducted on 21st April had sessions by Prof. Teena Bharti, Assistant professor in Organization Behaviour and Human Resource Management, IIM Bodh Gaya; Dr. Nidhi Mishra, Assistant Professor, Organization Behaviour, IIM Bodhgaya; Dr.Subhadip Roy, IIM Ahmedabad. The Day 2 of the workshop was facilitated by Prof. Ankush Agrawal, IIT Delhi; Prof. Aviral Kumar Tiwari, Rajagiri Business School; Prof. Sreejesh S, IIM Kozhikode; and Prof. Chandan Parsad, IIM Bodh Gaya. The workshops were conducted successfully, with the attendees gaining a lot of insights into the research world.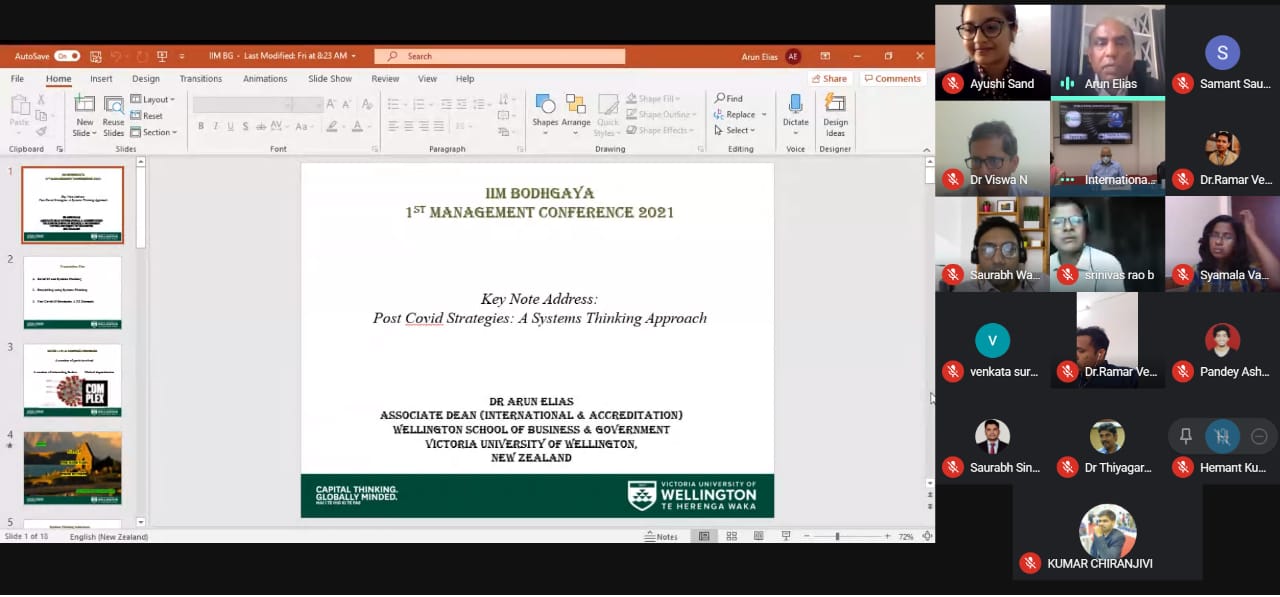 The leading conference started on 23rd April, which was inaugurated by Dr. Mohammed Laeequddinon, Chairperson, PGP, on behalf of  Prof. Vinita Sahay, Director, IIM Bodh Gaya, who welcomed all the eminent guests and speakers. The first session of the day was with the keynote speaker, Dr. Sanjay Madaria, Curators Distinguished Professor, Department of Computer Science, Missouri University of Science and Technology & ACM Distinguished Scientist, and an IEEE Golden Cre Awardee. Dr. Madaria presented his models that can identify the tweets' sentiments floated on Twitter regarding Covid 19 using Machine Learning. He utilized the US tweets and maintained that privacy was protected through privacy models developed while analyzing tweets' emotions.
The next session up on the schedule was Dr. Arun Elias, Associate Dean, Wellington School of Business, New Zealand, who discussed 'Post Covid Strategies – A Systems Thinking Approach. He stated that the Covid 19 pandemic is a complex problem and more than a health problem, and we need to see it as a whole instead and not piece by piece as per the systems approach. He emphasized that complex issues cannot be solved using a simple solution.
The event was taken forward by Dr. Yanki Hartijasti, Assistant Professor of Economics and Business, University of Indonesia. She presented a paper on Redesigning HR Strategies Post Covid. She emphasized the changing HR trends and means of employee engagement due to the pandemic. The last address of the introductory session was by Mr. Neeraj Khandelwal, Vice President – Financial Services Analytics, GENPACT. He highlighted how analytics has helped in increasing the speed of the Decision-making process. He also emphasized the importance of data and how there is a data explosion in this era.
More than 275 papers were presented in 54 tracks by expert researchers, scholars, and industry specialists with deep insights on post -covid strategies for management during this two-day conference. The major themes that emerged were digitalization, Online Shopping, Mobile Marketing, Reinforcing Organisation values,  Indian economy,  Post covid tourism, online education, etc.
The maiden edition of the conference had a great run with various eminent speakers and researchers. To mark the end to it, a valedictory session was organized, graced by Prof. Justin Paul, Distinguished Professor, Editor-in-chief, International Journal of Consumer Studies, and Associate Editor Journal of Business Research. Prof. Justin spoke on the topic 'Covid-19: Opportunities and Challenges for Businesses.' The event came to an end with a vote of thanks being presented by Dr. Soumyajyoti Banerjee, Assistant Professor, IIM Bodh Gaya.
Also Read,
IIM Bodh Gaya Third Convocation Hosted,175 Students Conferred Degrees