MBA in Law
Anisha Mukhija
MBA in Law is a postgraduate business management course involving concepts of commercial laws associated with an organization, firm or industry. The covers a study of the various lawsuits that form part of the legal machinery of the corporate world besides covering advanced concepts in both public and private law. This is a 2- year-long course that follows the basic rules of a management course, spread over 4 semesters.
The average fees charged in India for pursuing this course ranges between INR 3 to 8 Lacs, varying according to the difference in institutes providing it.
As a minimum criterion of eligibility for pursuing this course, the candidate must be a graduate in any disciple from a recognized college with a minimum aggregate score of 50%, with preference given to a bachelor's degree in Business Law. Additionally, candidates need to qualify any of the relevant exams for admission, namely CAT, MAT, XAT, SNAP etc. A college may also have its own exam conducted on the State level.
Learn about PGDM In Law by AIIM
The average salary offered in India to successful postgraduates of the course lies between INR 4 and 10 Lacs annually for freshers, depending on the reputation of the college and the skills of the candidate. They are hired in capacities such as Business Development Executive, Professor, Business Analyst, Law & Legal Manager etc.
Course Highlights
Tabulated below are some of the major highlights of the course.
| | |
| --- | --- |
| Name of the course | Master of Business Administration in Business Law |
| Course Level | Post Graduate/ Professional Degree |
| Duration | 2 years, full time |
| Stream | Law |
| Examination Type | Semester System |
| Eligibility | Graduation from any stream with a minimum aggregate score of 50% |
| Admission Process | Based on counselling sessions after clearing Entrance Tests (CAT/ MAT) or direct admission in some cases |
| Average Course Fee | INR 3 Lac to 8 Lac |
| Average Starting Salary | INR 4 Lac to 10 Lac |
| Top Recruiting Companies | Educational Institutes, Sales Tax & Excise Departments, Legal Consultancies |
Course Duration
The course is spread over 4 semesters with 2 semesters making 1 year. The 1st 2 semesters of the course are common between all students and subsequently, they go for their choice of major and minor.
What is it About?
The course trains enrolled students in advanced legal and ethical factors in business. Legal factors include areas like dispute resolution, constitutional law, torts and contracts. Business law is a course relevant to all management professionals since at some point of time almost all such professionals need to be informed in the basics of Business Law. The course covers both theoretical and practical parts of legal practice in the business sector. It is aimed at imparting skills in protecting business and commercial transactions legally. Business law is also called commercial law.
Who Should Opt?
Aspiring candidates with interest in lawsuits and management may opt for this course. Ideally, the course is suited for candidates wishing to explore on an advanced level the legal aspects involved in commercial transactions.
Eligibility Criteria
Candidates wishing to apply for MBA in Business Law need to have completed graduation in any discipline from a recognized institute in with a minimum aggregate score of 50%. Generally, a bachelor's degree in business law is preferred to other degrees. Candidates waiting for their final year graduation results are welcome to apply too.
Admission Process
For admission to the course, candidates need to qualify any of the relevant entrance exams followed by subsequent rounds of Group Discussion and Personal Interview. The main entrance exams held in India for MBA in Capital Markets are:
CAT- Common Aptitude Test
MAT- Management Aptitude Test
XAT- Xavier Aptitude Test
CMAT- Common Management Admission Test
Qualification in the entrance exam is followed by a round of Group Discussion (GD) upon clearing which, there is a round of Personal Interviews (PI) as the final stage in the process of selection.
Career Prospects
Mostly, successful postgraduates of the course are hired in sectors such as Finance, Analysis and FMCG. Industries which popularly hire Business Law postgraduates are both in India and abroad are:
Educational Institutes
Sales tax & Excise departments
Newspapers
Business Houses
Legal Consultancies
Banks
New Channels
Regulatory Bodies
Multinational Companies
Listed here are some of the popular job positions offered to successful postgraduates of the discipline with the corresponding job descriptions and salaries offered.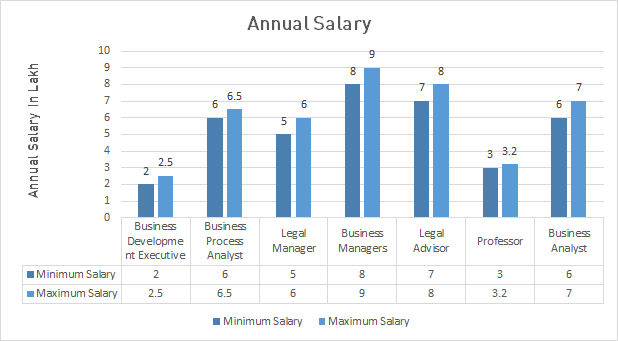 | | | |
| --- | --- | --- |
| JOB POSITION | JOB DESCRIPTION | AVERAGE ANNUAL SALARY |
| Business Development Executive | A Business Development Executive is a senior manager tasked with the job of helping the business grow and therefore, they are high-level sales professionals. | INR 2 to 2.5 Lacs |
| Business Process Analyst | A Business Process Analyst (BPA) is a specialty business analyst role that involves the 'thinking processes'. Business Process Analysts are skilled in process mapping and business process reengineering. They analyse business processes and workflows with the objective of finding out how they can be improved or automated | INR 6 to 6.5 Lacs |
| Legal Manager | Legal Managers draft, review and vet contracts, loan agreements, MOUs, employment agreements, sale/purchase agreements, non-disclosure agreements, notices, affidavits and other commercial contracts. They assist in drafting policies and procedures. | INR 5- 6 Lacs |
| Business Managers | Business Managers oversee the activities of workers, hire, train and evaluate new employee, and ensure that a company or department meets its financial goals timely. | INR 8- 9 Lacs |
| Legal Advisor | Legal Advisors require a significant amount of formal education, they handle education, job duties and licensure requirements to see if a career is right for the client. | INR 7- 8 Lacs |
| Professor | Professors impart quality teaching and research guidance. | INR 3 to 3.2 Lac |
| Business Analyst | Business Analysts develop technical solutions to business problems, or to advance a company's sales efforts, beginning with defining, analysing and documenting requirements | INR 6- 7 Lac |
Syllabus and Course Description
The course is spread over 4 semesters in 2 consecutive years, and the course's syllabus is tabulated here:
| | |
| --- | --- |
| Sr. No. | Subject |
|  1 |  Organizational Behaviour |
|  2 |  Business Communication |
|  3 |  Accounting for Managers |
|  4 |  Economics & Management Decisions |
|  5 |  Marketing Management |
|  6 |  Principles & Practices of management |
|  7 |  Quantitative Methods |
|  8 |  Human resource management |
|  9 |  Financial Management |
|  10 |  Operations Management |
|  11 |  Business Research Methods |
|  12 |  Operations Research |
Core Courses included in MBA in Law:
International Accounting and Finance
International Marketing
International Strategy
International Human Resource Management
Information System/Operations Management
Sustainability
Elective subjects include the following:
International Business Law
International and Comparative Commercial Arbitration
International Trade Law
International Banking Law
PRACTICAL TRAINING in MBA in Law:
Students pursuing the course need to undergo a practical training program as a compulsory part of their curriculum. The training period is required to last for 8 weeks and completed at a recognized organization which relevant industrial training. All students are required to go for this training upon the completion of their 2nd semester or after their 1st year of the course. Stipends offered to depend on the policy of each organization. A few training/ internships are paid and some are unpaid.
After completing their Post Graduate degree in Master of Business Administration in Business Law:
The candidates may either go for a private job or a government job in the same field.
The candidate may apply for PHD if they have interest in further studies.
The candidate may also appear for some teaching examination for teachers and can go for a teaching career in Universities and Colleges.
There are candidates who also go for a dual degree in the same course.