Rural Management – Providing Opportunities beyond Agriculture
Anisha Mukhija
Agriculture forms the core of employment in rural India, however the contribution of the sector to national income has been shrinking over the last few decades. The rural economy though as a composite, contributes close to half the GDP in India. As per estimates, the rural market for FMCG goods alone will cross $100 billion by 2025. Rural households contribute to approximately 50% of the GDP, 40% FMCG sales, 50% two-wheeler sales, 30% four wheeler, and 45% telecom contribution, according to a report by Deloitte and FICCI (2018).
In this scenario, all the companies are competing with each other for an enduring presence in Rural India. Large corporate houses are making their products, keeping in mind the rural population of India. The government is increasing focus on rural development, both on income and expenditure side. Rural Market, therefore, is lucrative choice for the companies.
There is a need for industry professionals to train themselves about the new rural India, its aspirations and ability for higher consumption levels. With distinctive consumer profiles and availability of infrastructure, marketing strategy for rural markets would be different than the urban market. Industry therefore will have to be responsive to the
specific needs of this sector, rather than replicating urban products, services and channels into rural markets.
However, one of the common challenges many companies face and which is affecting the profitable growth of businesses in the rural areas are limited talent. To manage this huge untapped market companies are looking for professionals who can measure the pulse of rural market aptly.
Agriculture Education
Agriculture education in India is at a cross-road, as the gap between the aspirations and reality of career pathway of agriculture graduates widens. Majority of the agriculture graduates still aspire for a government job, but in reality, the number of such jobs is decreasing due to stiff competition and changing government policies in the era of globalization and privatization.
With agriculture still playing a major role in rural India, corporate recruiters prefer candidates who have an understanding of the agricultural income cycles of the rural people because this understanding is pivotal in knowing the rural people as consumers of their products and services. This applies to varied range of products and services, apart from agriculture related ones. Agriculture graduates have a definite advantage here, as their curriculum covers not only the subjects such as agriculture economics and agriculture finance, but also the courses such as 'Rural Agricultural Work Experience' (RAWE) which render a practical exposure to rural agricultural realities.
The career aspiration spectrum of the agriculture graduates across the colleges shows a wide range of career options. However, the aspirations and the so called 'dream jobs' predominantly centre around few options such as government sector jobs (both agri and non-agri), the banking sector and private sector jobs. It has been observed that the career opportunities awareness within the private sectors among agri graduates is minimal. However, corporates are looking forward for recruiting such managers for the expanding rural markets. This is where education in well established area of Rural Management comes in handy.
Career opportunities for Agri graduate in rural sector
India is the second largest fruit producer in the world. The Food & Grocery retail market in India was worth US$ 380 billion in 2017. Indian Government has also focused on the agri sector growth through policies and schemes like PM Kisan Samman Nidhi Yojana and 'Pradhan Mantri Annadata Aay Sanrakshan Abhiyan' (PM-AASHA) that target accelerated agri growth in the country.
With these interventions, the agri-allied sector along with food processing industry is ready for an accelerated growth in a short period of time. Opportunities therefore, will also grow exponentially with increasing number of skilled management cadre required to grow and manage these interventions. While agricultural education allows
for deep technical knowledge of the sector, a well rounded look at rural as a sector inclusive of Agriculture and all supporting sectors like banking, FMCG, IT will be beneficial moving forward. Add to this, the focus on management as an input makes Rural Management Education a viable option for Agriculture graduates.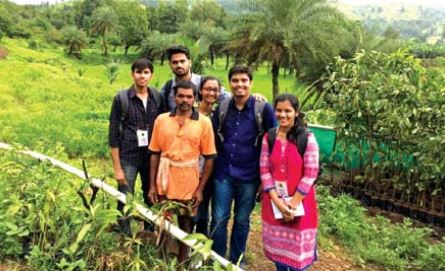 Rural management is the study of businesses for and of rural community in the areas of agribusiness and allied fields, FMCG, banking and finance, manufacturing, technology and innovation, development and
many more. It merges the knowledge of management studies with rural context. There are many specialised
schools in India today that offer Rural Management Programmes as 2 year full time courses. Institute of Rural
Management, Prin. L.N. Welingkar Institute of Management Development and Research at Mumbai (WeSchool),
Xavier School of Rural Management are some of the best known amongst such schools. Some of these
programmes, like the one at WeSchool seamlessly combine Management education with technical knowledge of agriculture, hands on experience in the field and interdisciplinary focus like Rural Marketing, Rural consumer Behaviour and Priority sector lending and Microfinance.
There is a need to anticipate rural beyond agriculture as it is a huge untapped market. With deep understanding of core issues of agriculture and allied sectors, the agri graduate can be ideal for Management education in the rural space. The mindset, knowledge and skill set already with agri graduate gives a jumpstart in a rural management programme and hence opportunities available to such a post graduate also becomes multi-fold. The willingness and ability to travel, empathy for the farmers' communities and technical knowledge of agriculture are the key competencies that usually differentiates agri graduates during and after rural management education.
Agri graduates will therefore as Rural Managers have bright and accelerated career prospects, like in sectors growing in the rural space like Banking & Finance, Insurance, FMCG & consumer durables, IT & ITES, Telecom, Manufacturing, Agri-business and allied services, Healthcare, Energy, Retail, Infrastructure and many others. There is need for a large number of rural managers who have the requisite skills and competencies to create, manage and grow rural businesses for rural facing companies, cooperatives, development sector organisations and government agencies and thereby become potential agents of change for rural India.
Prof. Swati Sethi, Associate Dean-Rural Management and Prof. Dr. Rachana Patil, Faculty-Rural Management – Prin. L. N. Welingkar Institute of Management Development & Research (Weschool)
Know more about Welingkar Institute of management