Top 10 MBA Colleges in Mumbai
Anisha Mukhija
Top 10 MBA Colleges in Mumbai
The MBA program covers the major facets of management (Accounting, Economics, Marketing, Finance, Strategy/Frameworks, Human Resources, Organisational Behaviour, Leadership and Information Technology, etc.) The curriculum is designed to strengthen the theoretical foundation, provide practical opportunities (internships, research, projects & workshops) build both hard & soft skills, open up a window of career opportunities and help start your own ventures.
For preparation with experts join our courses
Students from all over India come to Mumbai for further studies especially in the top management colleges in Mumbai.
A list of the top and best MBA Colleges in Mumbai are as follows.
Click to get Best Study Material for CAT Preparation
Jamnalal Bajaj Institute of Management Studies (JBIMS) named after the celebrated industrialist and philanthropist, Jamnalal Bajaj is one of the country's most elite B-schools. Established in 1965 by the University of Mumbai in alliance with Stanford University, it is one of the pioneering colleges in Mumbai.  Popularly referred to as a 'CEO's factory', JBIMS boasts a strong alumni network which is a source of inspiration to the students.
Course Name & Eligibility
The college's outstanding full-time Masters in Management Studies (MMS) program lasts two years. The training is divided into four semesters, each lasting about 15 weeks. In the first year, all students have the same academic curriculum, but in the second year, you can specialize in areas such as marketing, finance, personnel, or operations and systems.
Students can also enroll in electives. The curriculum also includes regular assignments, projects, research, extempore presentations, case studies, and quizzes.
Placements
JBIMS offers placements on par with India's elite IIMs. The entire class of 130 students was offered extraordinarily lucrative jobs during the 2016-2018 school year. The biggest package on offer was $30 lakhs per year, with an average pay of $18,91 lakhs per year.
The campus placements attracted a total of 69 companies. BFSI, FMCG, and pharmaceuticals were among the top recruiters. Manufacturing, Telecom, Auto, Conglomerates, Consulting, E-commerce, and the IT segment all had some fantastic employment openings.
Established in 1983, SIMSREE is a B-Graduate School in Mumbai that promises excellence in academics. In 30+ years of its existence, the college that follows the mantra 'Work conquers all' has exhibited spectacular growth in this competitive domain and is lauded for its efforts.SIMSREE's strong corporate interface, notable alumni base, ranking among the top MBA colleges of the country, awards/certifications are proof of its commitment towards imparting an exceptional learning experience that is holistic and enriching.
Course Name & Eligibility
The All India Council for Technical Education has authorized two SIMSREE programs (MMS and PGDBM) (AICTE). The two-year full-time courses are divided into four semesters. The MMS and PGDBM curricula essentially follow the same approach. The first year is spent bolstering the foundations of the company. Students can choose from a variety of specialties in their second year (Finance, Marketing, Human Resources, Operations & Systems). A two-month summer internship is required as part of the curriculum.
Placements
The Placement Committee is in charge of the recruitment process (a student body). The Committee is resourceful, and it goes to great lengths to connect students with major corporations in order to assist them in obtaining lucrative jobs and internships. The MBA college has a perfect placement record year after year (100 percent).
SP Jain Institute of Management & Research (SPJIMR) is a name to reckon in the management education arena. Since its inception in 1981, there has been no looking back for SPJIMR. The private-run college made it to the coveted list of India's top ten B-schools by 1994-1995 and has firmly retained this position ever since. SPJIMR is recognised for its distinguished pedagogic approach, pioneering programs, and emphasis on values. The location of the college in the heart of the financial capital is conducive to industry exposure.
Course & Eligibility
SP Jain offers a two-year full-time Post Graduate Diploma in Management (PGDM) program that is comparable to an MBA. Students are chosen based on their overall profile and their entrance exam (CAT or GMAT) score. All students will cover the same themes in the first year.
The second-year (fourth and fifth trimesters) concentrates on core specialties in a variety of fields (Finance Management, Marketing Management, Information Management, and Operations Management). Applicants must, however, select a specialism throughout the application process. SPJIMR emphasizes group work, mentorship programs, projects, and field assignments in addition to theoretical knowledge.
Placements
The college's recruitment drives are superb, with plenty of career openings. In comparison to the previous year, the average starting pay for the Class of 2018 was Rs.21.25 lakh, up from Rs.20 lakh. A large portion of the group received offers in excess of Rs.17 lakh. Boston Consulting Group, HUL, Amazon, GE, Axis Bank, Tata Administrative Services, P&G, Axis Bank, and AstraZeneca were among the top recruiters.
NMIMS was established under Mumbai University in 1981 and bestowed the Deemed University status in 2003 by the Government of India. The college is a popular education destination for students seeking an MBA degree. Within a short span of 36 years, NMIMS has garnered quite an impressive reputation. It features in the coveted list of the top 10 B-schools of the country. Other feathers in its plume include an A grade rating and accreditation by NAAC with 3.59 CGPA. Its convenient location in the financial capital has enabled NMIMS to maintain strong ties with the industry, high profile MNCs, and illustrious alumina.
Course & Eligibility
A full-time Master of Business Administration program is available at NMIMS. GMAC administers its own entrance exam (NMAT), which is followed by a GD and PI. The course is divided into six trimesters over the course of two years. The first year's subjects are common, but students in the final year can choose from a number of specialties (MBA core, HR, Analytics & Decision Science). Every trimester at NMIMS provides a variety of electives. All MBA students must participate in a summer project (6-8 weeks).
Placements
This season, NMIMS had a significant success in terms of final placements. The class of 2018 (HR) earned the maximum annual income of Rs.18 lakh, with an average remuneration of Rs.14 lakh.
PPOs and PPIs were given to about 46% of the group. Among the companies that visited the campus were Goldman Sachs, GE, Microsoft, ITC, L'Oreal, Asian Paints, HUL, Deloitte, ICICI, Flipkart, and the Aditya Birla Group. Jumbo Electronics and Square Yards both offered international placements.
Established in 1963, NITIE is one of the foremost B-schools of the country. Popularly known as the "Mecca of Supply Chain" it is among the most sought-after institutions for pursuing a career in Supply Chain & Operational management. Boasting a legacy of more than 50 years in the Industry, NITIE has a huge alumni base comprising of successful professionals and start-up founders. There's more! NITIE is rated among the top 15 centers of Excellence by the Ministry of HRD alongside IISC, 6 IIMs & 7 IITs.
Shailesh J. Mehta School of Management is another sought-after destination for aspiring managers in Mumbai. The institution that began operations in 1995 is part of the Indian College of Technology, Bombay (IITB). Though a fairly new entrant in this domain, it has garnered an enviable reputation for developing terrific managerial talent. What's more, the SJMSOM campus is beautiful with a world-class infrastructure, a brilliant faculty, small batches, a large alumni base, and much more. The school was ranked fifth in the National Institutional Ranking Framework Management (2018) and 16th in the Indian Top 100 Management Schools Survey by Outlook (2017).
Welingkar Institute of Management Development (WeSchool) consistently features among the top 30 education establishments in the country.  Founded in the year 1977, it is a part of the esteemed Shikshana Prasaraka Mandali that has 43 colleges under its umbrella. The college focuses on imparting the key skills and knowledge essential to attain success in the constantly evolving business environment. WeSchool has a long list of credentials to its name. The latest is the "AICTE-CII National Award for Best College for Industry College Linkage 2015".
Established in 1981 as part of Somaiya Vidyavihar, the private-run college has emerged as one of the top MBA colleges of the country. It has produced exceptional managers that hold strategic positions across various domains around the globe. Set on 60 acres, the medium-sized campus with greenery, trees, gardens, and world-class infrastructure is beautiful.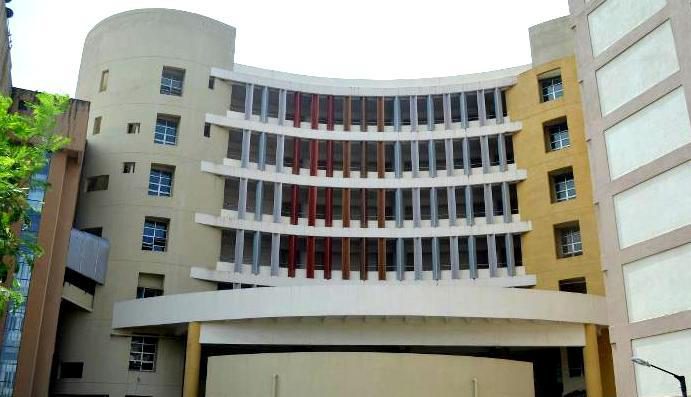 K. J. Somaiya Institute of Management Studies and Research was established in 1981 as a part of Somaiya Vidyavihar with the objective of providing state-of-the-art education in management and allied areas. The institute is consistently ranked among the top 25 management institutes and top 10 private sector B-schools in India. The institute offers full time, part-time and executive programs in Business Management along with Masters in Computer Applications and Doctoral Programmes. The Institute is approved by the AICTE and accredited by the NBA. It has been certified by the Bureau Veritas. The Institute offers MBA, Executive MBA, MCA, and Ph.D. programs in various specializations. It has 131 highly-qualified and knowledgeable faculty members. KJ Somaiya also conducts various customized Management Development Programmes and Faculty Development Programmes.
Top MBA Courses Specializations offered are:
International Business
Retail Management
Sports Management
Financial Services
Integrated Marketing Communication
Healthcare Management
Data Science & Analytics
Human Resources
N. L. Dalmia Institute of Management Studies & Research was established in 1995 by our Founder Chairman Late Shri Niranjanlal Dalmia with an aim to provide holistic education to every meritorious student. Today, NLDIMSR ranks among the Top 10 Private B-Schools in Western India and is regarded as the most preferred destination to study management in Mumbai. The Institute has been a recipient of many prestigious awards such as the Pride of Maharashtra's exemplary achievements & unique contributions in the field of education, CSR activities, and generating new entrepreneurs and start-ups at the Maharashtra Industry and SME summit. The institute has also recently been awarded Best Private Institute in Maharashtra for Placements 2020 by the Centre for Education Growth & Research. NLDIMSR boasts of a state-of-the-art infrastructure that provides a propitious environment to learn, and succeed. The Institute is also Mumbai's first to have a 12-Terminal Bloomberg Lab.
The Institute currently offers 4 programs:
1. 2 years Full-Time PGDM program approved by AICTE
2. Global MBA program in association with University of Wisconsin – Parkside
3. Post Graduate Certificate Program in Big Data in association with SAS
4. Ph.D. program in association with University of Mumbai
An important KPI for every B-school is its annual placement report. And NLDIMSR's alumni
presence in some of the top leadership positions in the industry is a testament to their
excellent placement record. Every year, top MNCs and top-tier companies such as Hindustan
Unilever, Zee Entertainment, Tata Croma, Bennett and Coleman, Kantar, Godrej & Boyce
Limited, CitiCorp., CRISIL, CBRE, Factset, Linedata, Aditya Birla Finance, Darashaw & Co. Pvt.
Ltd., B&K Securities etc. visit the campus for placements.
Average Placement Package: 9.00 LPA
The PGDM (e-business) program at MET is one of a kind program that has been developed keeping in mind the changing landscape of the business environment. Taking the core values of management from the conventional PGDM course and combining it with the new-age technological factors and know-how, the PGDM(e-business) program aims at empowering professionals in today's digital business era.
About the PGDM (e-business) program at MET:
The PGDM (e-business) program consists of four semesters that help shape the students and make them ready to meet the challenges of the corporate world. The four semesters are aimed at developing their capabilities and their critical thinking skills. The entire learning program has been formed with a focus on integrating the Academic curriculum with the Industry requirements.
The PGDM (e-Business) course at MET offers MBA specializations in five domains namely – Marketing, Finance, HR, Operations, and Systems. Along with the Core syllabus, MET also offers other important subjects that can help its students gain a competitive edge over others in this highly competitive and demanding environment. The subjects offered are:
Design Thinking: MET is the only management college to offer this course which emphasizes creative problem-solving methodology and innovative thinking process.
Strategic Management: Strategic management is one of the most sought after roles in organizations worldwide. This subject helps students to learn to formulate and implement strategies that will help an organization achieves its ultimate objectives.
Business Analytics: With the advent of Industry 4.0, it is no surprise why Business Analytics is gaining popularity. Through this course, students learn how to use data and quantitative analysis for decision making and to apply it for the efficient working of the organization.
Digital Business and Digital Marketing: Through the Digital Business and Digital marketing subject, the students learn everything about the changing digital landscape and become prepared to ace the Digital Business domain.
E-Commerce: Almost every business is now going online, hence e-commerce is a very relevant subject in today's day and age. This subject offers to make students understand and learn how to run businesses beyond brick and mortar structures, and be successful in running such business.
Event Management: Event management offers to make students ready to handle any event, whether small or large and make them masters in organizing and working under pressure.
Real Estate: Real estate has always been an unpopular choice, often considered as an industry that is currently not in good shape, but is sure to turn around soon. With the great professional opportunities that it is bound to open, the program provides this subject as an option for students to explore and learn about it in depth.
Every year, the number of companies visiting the campus continues to increase, with companies offering multiple portfolios such as research analyst, sales & distribution, investment research and portfolio management, advertising, digital marketing, business analyst, customer service, marketing, e-commerce, etc. The top recruiters come from diverse sectors such as IT, real estate, pharma, life-sciences, automobile sector, banking and NBFCs, FMCGs to name a few, and offer packages as high as 15.5 lakhs p.a. to its students.
Thadomal Shahani Centre for Management – TSCFM, is a part of The Shahani Group of Institutions. With a strong awareness that our students are future global leaders, at TSCFM our focus is on comprehensive development, providing students a globally relevant curriculum, an innovative teaching methodology, and international faculty members who have hands-on business leadership.
Being the only B-school in Mumbai to bring the best of international management education in India, we have received many awards for our innovative education model like the Clinton Global Initiative Award at the hands of Pres. Bill Clinton, Ranked #3 in India by Outlook Magazine for Global MBA courses, Management College of the year – 2017 by Higher Education Review Magazine, CFBP Jamnalal Bajaj Award, CII Education Excellence Award, DNA Award for Industry Institute Interface, PIMR Outstanding Educationist Award and many others.