Top colleges through CMAT
Anisha Mukhija
Top colleges through CMAT
CMAT, commonly known as the Common Management Aptitude Test, is an MBA entrance exam conducted by the National Testing Agency (NTA). This year, more than 60,000 candidates have appeared for the exam out of 64,582 candidates. If you are a CMAT test taker, knowing the list of top colleges through CMAT scores along with their cut-off will not only help you in setting your goal but also prepare you for admissions once the results are declared.
Crack CMAT with Mentors from top B-Schools
Till 2018, CMAT was conducted by AICTE, which was taken over and conducted by NTA in 2019. Although the mode of the exam continued to be computer-based, instead of multiple-day windows, the exam is held in a single day and slot across the country.
Expected Cutoff  for CMAT 
| | |
| --- | --- |
| College Name | Expected Cutoff |
| JBIMS | 99.99%ile |
| SIMSREE | 99.96%ile |
| Goa Institute of Management | 99.8%ile |
| KJ Somaiya Institute of Management | 97%ile |
| Great Lakes Institute of Management | 97%ile |
| PUMBA | 96%ile |
| Department of Management Sciences, University of Pune | 95-99%ile |
| IPE Hyderabad | 90-95%ile |
| Welingkar Institute of Management, Mumbai | 85%ile |
| IFIM | 85%ile |
| Welingkar Institute Of Management | 85%ile |
| NIPM Pune | 85%ile |
| Jaipuria Institute of Management Noida | 80%ile |
| ISME Bangalore | Profile Based |
| N. L. Dalmia Institute of Management Studies and Research | Profile-based |
| XISS Ranchi | 85%ile |
| IMT Hyderabad | 80%ile |
| NIA | 75%ile |
| IMT Nagpur | 80%ile |
| SOIL | 75%ile |
| IMT Navi Mumbai | 80%ile |
| AURO | 70%ile |
| ADANI | 70%ile |
| D Y Patil University School of Management | 70%ile |
| Amrita School of Business – DMS, Bangalore | 80%ile |
| Asia-Pacific Institute of Management | 85%ile |
| Accurate Group of Institutions | 70%ile |
| Indus Business Academy, Bangalore | 60%ile |
| Birla Institute of Management Technology | 230 score |
| KIIT School of Management | 230 score |
| IES Management College and Research Centre | 220 score |
| Xavier Business School | 245 score |
| Calcutta Business School | 210 score |
| VIT Business School | 194 score |
| M.S Ramaiah Institute of Management | 205 score |
| SIES College of Management Studies, Navi Mumbai | 230 score |
| AIMS Institute, Bangalore | 230 score |
| XIME, Bangalore | 230 score |
| Alliance School of Business, Bangalore | 211 score |
| XIME, Chennai | 220 score |
| Christ University Institute of Management, Bangalore | 220 score |
Top B-schools through CMAT Scores
JBIMS Mumbai, known as the CEO factory is one of the top MBA colleges in India. This is one of the best colleges through CMAT scores. The institute has a legacy of 50 years. Proving time and again as the top MBA college, JBIMS, located in the heart of Mumbai in the Church Gate area has produced many industry leaders who visit the institute to share their practical experiences of success journey which is the biggest advantage as industry connects at JBIMS.
Most of the visiting faculty members at JBIMS are corporate leaders who also happen to be alumni of JBIMS. Their guest lectures give direct insight into the present industry requirement and future vision.
Large Alumni base working as CEOs and top executives across the Globe in top-ranked companies. It helps JBIMS students to secure high placement
The program fee for domestic students is Rs.6 lakhs and for NRI/PIO the fee is Rs.12 lakhs
100% Placement 2018 with an average salary of Rs. 18.91 lakhs
The highest Salary is Rs. 30 lakhs
Top recruiters include   Abbott, Aditya Birla Group, AkzoNobel, Arvind Brands, Capgemini, Citibank, DBS Bank, Goldman Sachs, HSBC, HUL, ICICI Bank, IDFC Bank, J.P. Morgan Chase, JSW, McKinsey & Company, Medtronic, P&G, Piramal, RBL, RIL, Standard Chartered, Tata Motors, Tata Steel, Vodafone
The PGDM (e-business) program at MET is one of a kind program that has been developed keeping in mind the changing landscape of the business environment. Taking the core values of management from the conventional PGDM course and combining it with the new-age technological factors and know-how, the PGDM(e-business) program aims at empowering professionals in today's digital business era.
About the PGDM (e-business) program at MET:
The PGDM (e-business) program consists of four semesters that help shape the students and make them ready to meet the challenges of the corporate world. The four semesters are aimed at developing their capabilities and their critical thinking skills. The entire learning program has been formed with a focus on integrating the Academic curriculum with the Industry requirements.
The PGDM (e-Business) course at MET offers MBA specializations in five domains namely – Marketing, Finance, HR, Operations, and Systems. Along with the Core syllabus, MET also offers other important subjects that can help its students gain a competitive edge over others in this highly competitive and demanding environment.
The subjects offered are:
Design Thinking: MET is the only management college to offer this course which emphasizes creative problem-solving methodology and innovative thinking processes.
Strategic Management: Strategic management is one of the most sought-after roles in organizations worldwide. This subject helps students to learn to formulate and implement strategies that will help an organization achieves its ultimate objectives.
Business Analytics: With the advent of Industry 4.0, it is no surprise that Business Analytics is gaining popularity. Through this course, students learn how to use data and quantitative analysis for decision-making and to apply it for the efficient working of the organization.
Digital Business and Digital Marketing: Through the Digital Business and Digital marketing subject, the students learn everything about the changing digital landscape and become prepared to ace the Digital Business domain.
E-Commerce: Almost every business is now going online, hence e-commerce is a very relevant subject in today's day and age. This subject offers to make students understand and learn how to run businesses beyond brick-and-mortar structures, and be successful in running such businesses.
Event Management: Event management offers to make students ready to handle any event, whether small or large and make them masters in organizing and working under pressure.
Real Estate: Real estate has always been an unpopular choice, often considered an industry that is currently not in good shape, but is sure to turn around soon. With the great professional opportunities that it is bound to open, the program provides this subject as an option for students to explore and learn about it in depth.
More:
Every year, the number of companies visiting the campus continues to increase, with companies offering multiple portfolios such as research analysis, sales & distribution, investment research and portfolio management, advertising, digital marketing, business analysis, customer service, marketing, e-commerce, etc. The top recruiters come from diverse sectors such as IT, real estate, pharma, life-sciences, automobile sector, banking and NBFCs, and FMCGs to name a few and offer packages as high as 15.5 lakhs p.a. to its students.
Woxsen University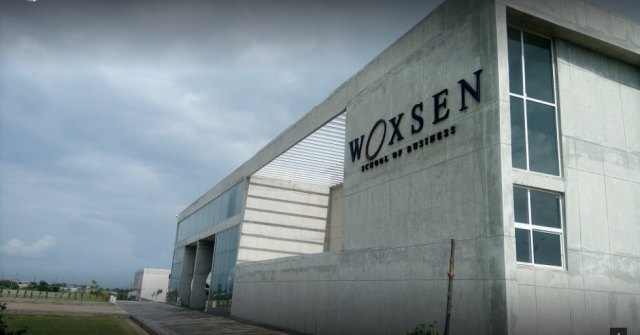 The MBA program has been designed to equip students with the knowledge and skills required to successfully compete in a dynamic world. Starting with the fundamental concepts of business, the program enables students to appreciate the application of theory in practice through case studies, simulation exercises, an internship project, and other fascinating modes of learning.
Of the six terms in the program, the initial three terms focus on introducing and building students' capabilities in general business areas – economics, quantitative techniques, finance, marketing, operations, and strategy. The courses covered in the first year are common for all students.
Students then participate in an internship project, working at a business firm for about ten weeks. This experience is invaluable in linking the theory learned so far with the real world of business. Typical internship projects involve improving the process performance at a factory, assisting in the launch of a new product, reducing supply chain costs, and designing a reporting system for the firm.
Business Specialisations
During terms 4 to 6, the curriculum has a mix of core and elective courses across three disciplines. Students are required to select their area of specialization at the beginning of the second academic year from the following:
– Marketing
– Finance
– Operations
– HR
This program exposes students to how business is conducted in a global setting through interaction with Business leaders, industry experts & academicians. This is an invaluable learning experience that will stand students in good stead throughout their long careers.
The curriculum has been designed by a panel of academicians and professionals from the industry who have ensured that the selection of courses in the program and the content of each course matches the current and future requirements of the Indian and global economy. At the end of the program, students will be well-prepared to take on the challenges of the ever-increasing complexity of the business world.
Apart from management programs, the college also offers an excellent Bachelor of Commerce (Hons.)  covering the entire spectrum of commerce specializations. This program is designed to provide students with a multi-disciplinary perspective towards trade, commerce, accounting & finance. Every element of the curriculum is carefully curated with inputs from industry professionals. Real-time projects and assignments that have immense applications in real-world industry scenarios, help you fast-track your career effortlessly.
Established in the year 1993, the Goa Institute of Management (GIM), previously located in Ribandar, is now, nestled in the lap of the Sahyadri mountains, in Sanquelim, Poriem, Goa.  The ethos of all programs by GIM, namely PGDM, PGDM – Healthcare Management, PGDM – Big Data Analytics, PGDM – Banking Insurance and Financial Services, and Fellow Programme Management, is 'Learning never stops at GIM'. That being mentioned, learning at GIM is a holistic and continuous process that extends beyond the regular class hours. Out-of-class activities like student clubs; the experience of living on a diverse campus and interacting with students from all states of the country and, different academic disciplines.
The students get a good measure of global exposure through student exchange programs as well as the India immersion programs that GIM conducts for students from the United States, Belgium, and Poland. Being a part of GIM's social sensitivity and community engagement program called Give Goa and several other such opportunities provides students with a holistic learning experience that complements the rigorous classroom-based programs.
An applicant can apply to the institute through CAT, XAT, CMAT, and GMAT. GIM gives a lot of emphasis to the profile of the applicants as that shows the true potential of any person. If you have achievements in any field, be it sports, work, academics, social services, or anything else, you can apply for the PGDM program through Achievers Round. In this round, applicants stand a chance to receive a spot offer for admission. For PGDM – Healthcare Management, PGDM – Big Data Analytics, and PGDM – Banking Insurance and Financial Services, the applicants are shortlisted based on their overall profiles.
SIMSREE offers the Masters of Management Studies (MMS) course, a Two Year Full -Time postgraduate degree course affiliated with the University of Mumbai, since 1983. This course is approved by the All India Council for Technical Education (AICTE), New Delhi.  The program is conducted under the direction of the University of Mumbai with specializations offered in the areas of Finance, Marketing, Operations, Systems, and HR.
Program Structure: The first semester is combined for all specializations and one is required to select their specialization in the 2nd semester itself.
Number of Seats: 120
Also Read: CMAT v/s CET 
The Welingkar Mumbai Campus is a thriving hotbed of new thoughts, ideas, and enterprise and a place where cutting-edge global conversations begin. This is one of the top colleges accepting CMAT scores.
Welingkar Campus DNA has Unconventional forms as an integral part. No wonder that state-of-art-facilities like Complete Wi-Fi and Innovation & Leadership Labs together form an indispensable part of teaching methodology, along with numerous other new-age learning tools.
Every year, Welingkar draws students from diverse cultural, personal, and professional backgrounds.
Welingkar's rigorous and innovative curriculum combines cutting-edge business research with active application-based coursework and an emphasis on collaborative learning.
K. J. Somaiya Institute of Management Studies and Research was established in 1981 as a part of Somaiya Vidyavihar with the objective of providing state-of-the-art education in management and allied areas. The institute is consistently ranked among the top 25 management institutes and top 10 private sector B-schools in India. The institute offers full-time, part-time and executive programs in Business Management along with Master in Computer Applications and Doctoral Programmes. The Institute is approved by the AICTE and accredited by the NBA. It has been certified by the Bureau Veritas. The Institute offers MBA, Executive MBA, MCA, and PhD programs in various specializations. It has 131 highly qualified and knowledgeable faculty members. KJ Somaiya also conducts various customized Management Development Programmes and Faculty Development Programmes.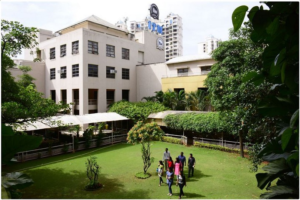 Approved by the AICTE, ITM Business School has campuses across Navi Mumbai (Khargar), Warangal, Chennai, Vadodara and Raipur. Founded in 1991, ITM Group's flagship campus is situated in the township of Kharghar (Navi Mumbai). The Khargar campus has been providing education to aspirants for the past 29 years.
It is among one the best MBA/ PGDM colleges in India. ITM Business School is consistently ranked among the top B-Schools for MBA/PGDM in Mumbai, the west zone and nationally over decades. It is India's ranked 15th top B-School.
The school offers a two-year PGDM iConnect programme with over 1,000 contact hours of curriculum. ITM Business School Navi Mumbai has partnerships with Queen Margaret University UK, EMI Normandie France and Groupe ESSCA France.
It has all the modern facilities befitting to a world-class institution delivering business education. With a range of pedagogical, curricular, and extracurricular activities and the resources available, the campus offers a conducive environment for each student to experience holistic development.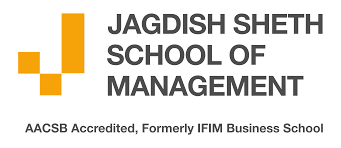 The Jagdish Sheth School of Management (Formerly IFIM Business School) is a business school in Electronic City, one of India's largest industrial parks in Bangalore.
It is an AICTE-approved institution with an ISO 9001:2008 certification. The school is accredited by NAAC 'A' grade, the Association to Advance Collegiate Schools of Business (AACSB) and SAQS (South Asian Quality Assurance System). Jackson's programmes have also been approved by the Distance Education Bureau, a department of the University Grants Commission (UGC) to offer its programs in distance mode. PGDM Finance is recognised by the CFA Institute under its University Recognition Programme. The institute offers PGDM, Executive, PhD in the discipline of Finance, International Business and Management Development Program. JACKSON has been ranked no. 26 in India amongst Best Business Schools by Business India magazine and has won Education World's Higher Education Awards.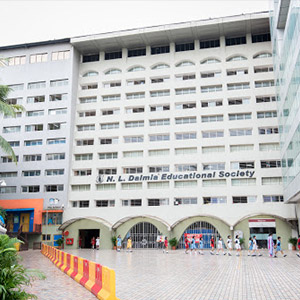 N. L. Dalmia Institute of Management Studies & Research was established in 1995 by our Founder Chairman Late Shri Niranjanlal Dalmia with an aim to provide holistic education to every meritorious student. Today, NLDIMSR ranks among the Top 10 Private B-Schools in Western India and is regarded as the most preferred destination to study management in Mumbai. The Institute has been a recipient of many prestigious awards such as Pride of Maharashtra exemplary achievements & unique contributions in the field of education, CSR activities and generating new entrepreneurs and start-ups at the Maharashtra Industry and SME summit. The institute has also recently been awarded Best Private Institute in Maharashtra for Placements 2020 by the Centre for Education Growth & Research. NLDIMSR
boasts of a state-of-the-art infrastructure that provides a propitious environment to learn, and succeed. The Institute is also Mumbai's first to have a 12-Terminal Bloomberg Lab.
The Institute currently offers 4 programs:
1. 2 years Full-Time PGDM program approved by AICTE
2. Global MBA program in association with the University of Wisconsin – Parkside
3. Post Graduate Certificate Program in Big Data in association with SAS
4. PhD program in association with the University of Mumbai
An important KPI for every B-school is its annual placement report. And NLDIMSR's alumni presence in some of the top leadership positions in the industry is a testament to their excellent placement record. Every year, top MNCs and top-tier companies such as Hindustan Unilever, Zee Entertainment, Tata Croma, Bennett and Coleman, Kantar, Godrej & Boyce Limited, CitiCorp., CRISIL, CBRE, Factset, Linedata, Aditya Birla Finance, Darashaw & Co. Pvt.
Ltd., B&K Securities, etc. visit the campus for placements.
Average Placement Package: 9.00 LPA
We accept CMAT scores for the PGDM program however, there is no cut-off as we select candidates based on their overall profile. All candidates who apply to the Institute get an opportunity to appear for the Selection Process.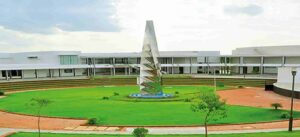 Great Lakes Institute of Management, Chennai, was established in 2004 by the Visionary Management Guru Padma Shri Dr Bala V Balachandran – JL Kellogg Distinguished Professor of Accounting Information & Management, Kellogg School of Management at Northwestern University, USA. Great Lakes was founded with the objective of creating management professionals equipped to navigate the business challenges of the future. The institute is one of the pioneers in introducing the one-year full-time MBA (PGPM) in India. Great Lakes has also been responsive to changing industry dynamics by being the first to introduce specializations such as Analytics, AI, Machine Learning & Blockchain in management programs. With a global faculty pool, innovative curriculum, application-oriented teaching-learning pedagogy, and strong engagement with corporate leaders, Great Lakes provides a holistic learning experience to its students right from day one.
Great Lakes Institute of Management, Gurgaon, was founded in 2010 as the 2nd campus of Great Lakes Chennai. The Gurgaon campus was strategically set up in the industrial hub of the country – Delhi NCR – to engage extensively with the established Fortune 500s and new-age businesses in the region.
Aspects evaluated together during the application phase:
1. Past Academic Performance
2. Professional Track Record (for candidates with work experience)
3. Application Essay – Statement of Purpose (PGPM Only)
4. Diversity
5. Entrance Test Scores – CAT, XAT, GMAT, CMAT (best score would be considered in case multiple scores are submitted)
Aspects evaluated through AWT:
1. Reasoning Skills
2. Clarity of Thought
3. Written Communication Skills
Aspects evaluated through PI:
1. General & Business/Industry Awareness
2. Attitude, Motivation & Thought Process
3. Initiatives are taken during Past Academic days and at the Workplace
4. Past achievements
5. Leadership potential
The Great Lakes Admissions process in its entirety aims to select well-rounded, highly motivated, and consistently high-performing individuals for its programs solely on the basis of overall merit. The process has no provision for reservations of any kind and all applicants are evaluated on a fair basis. To encourage diversity in class, the Great Lakes Institute of Management also offers diversity and merit-based scholarships worth up to INR 2 Crores for the PGPM program.
Application Deadlines for Admissions 2022
Cycle 2 App. Deadline: PGPM & PGDM: 12th Jan, 2022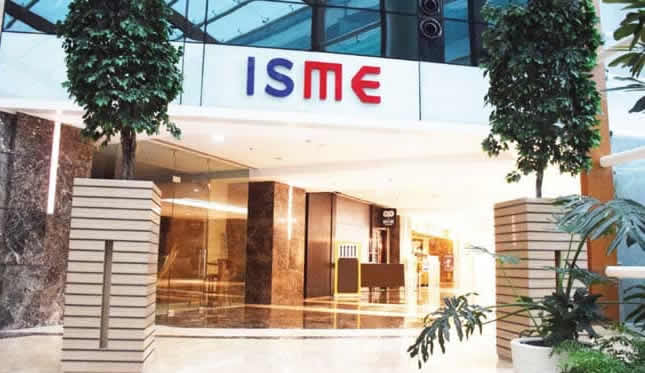 ISME is a revolutionary academic ecosystem with a focus on creative thinking and design-led innovation. We invest in students to help them do more and challenge their entrepreneurial minds.
With our state-of-the-art facilities, proximity to industry, and strong international alliances, we provide students with the best chance to succeed.
Imagine Trust was established with the objective of promoting educational activities and the advancement of new knowledge. The Trust has significantly scaled its activities in education in courses related to management, data science, and entrepreneurship.
The School has conducted numerous short courses and programs in the above areas and over the past three years has trained students and faculty in skills that prepare them for the 4th Industrial Revolution.
At the heart of the trusts, vision is an integrated approach built on new-age management thinking, where educators help students develop creative mindsets, instil entrepreneurial confidence, and inculcate a culture of impact-driven research.
NIA provides dual expertise to PGDM students; one in Insurance and the other in management. Being a National Institute the culture at National Insurance Academy is multifaceted. With a keen sense of responsibility to the needs of society and the nation, NIA's hallmark lies in being bold to undertake untouched tasks of utmost importance and necessity. The environment reflects the history of NIA. At NIA, the academic experience is unparalleled. Our students are given a comprehensive understanding of the Indian insurance industry with key inputs on instilling managerial ability. A balance in the infusion of core domain strength and managerial expertise is always maintained. Our course curriculum is constantly being revised according to industry needs and expectations and hence, reflects one of the most robust and dynamic learning experiences.
Every student has to complete six trimesters of intense academic work and 8-10 weeks of the Summer Internship Program to qualify for the diploma.
Xavier Institute of Social Service was established in 1955 as a centre for social service at St. Xavier's College, Ranchi. Currently, XISS offers the following diploma and certificate programmes for Human Resource Management PGDM (HRM), Rural Management PGDM (RM), Information Technology PGDM (IT), Finance PGDM, Marketing PGDM (Marketing), and National Stock Exchange of India (NSE) Certified Capital Market Professional (NCCMP). The institute is known in the corporate world for its Post Graduate Program in Rural Management and Human Resource Management with leading multinationals and Indian companies coming for campus interviews.
Adani Institute of Infrastructure Management (AIIM) is a part of the Adani Institute of Infrastructure offering a Postgraduate Diploma in Law and Management. The college also offers a 1-year Executive program to students. Its campus is on the Sarkhej-Gandhinagar highway near Ahmedabad (Gujarat, India). Courses offered in PGPIM employ a mix of pedagogical methods including case discussion and analysis, lectures, group exercises, simulations, presentations, role-plays, project work, and field visits. In AIIM As part of the PGDM (IM) curriculum, each student has got an opportunity to work with industry experts and institute mentors. The focus of the student is research, hands-on industry experience, application of the subjects in the office, getting accustomed to the work environment, and exposure to corporate.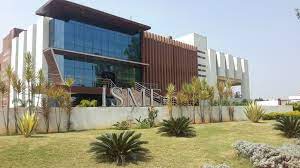 ISME is an institution that focuses on attaining global standards in education; providing quality inputs and academic excellence. Our rigorous curriculum is dynamic with continual changes thus reflecting the changes in the global business environment. Our faculty is drawn from some of the top U.S. and Indian schools and the industry, providing outstanding pedagogical inputs. Our school prides itself in the fact that we provide personalized attention and a liberal learning environment to the student, to bring up the next generation of confident, nimble, and ethical management graduates. ISME aspires to groom its students into global business managers. A well-laid-down vision by the advisory board of directors will help ISME realize its vision. Our world-class infrastructure and open and warm learning environment are an embodiment of the spirit of excellence that ISME aspires to achieve.
Amrita School of Business (ASB), Coimbatore is one of the fastest-growing B-Schools in India. The College is situated in Coimbatore, Tamil Nadu, and comes under Amrita Vishwa Vidyapeetham which was established in 1996. Amrita School of Business Coimbatore offers two programmes namely MBA (full-time) and PhD (full-time/part-time) ASB is one of the select few B-Schools in the Country where a Doctoral Program in Management is offered. The Institute offers both on-campus and off-campus placement opportunities to the students.
Dr DY Patil University's School of Management (DYPUSM) is a private institution located in Navi Mumbai, Maharashtra which was established in 2002. The school is NAAC 'A' grade-accredited and approved by AICTE, UGC, and NCTE. It offers business and management programmes at UG and PG levels in specialization, including Finance, Marketing, International Business, Hospital Administration and Baking & Insurance, Aviation, Entrepreneurship, and Sports Business.
SIES College of Management Studies is considered one of the best schools for management and business studies in the country. Having a sprawling campus located in Navi Mumbai, the institute has received the ISO 9001:2008 Certification for offering quality management education to students across the country. For the PGDM courses in management, the students have to go through different steps. The initial step is qualifying for a management exam such as CAT, MAT, XAT, and CMAT.
Established in 1971, The Department of Management Sciences (DMS), Savitribai Phule Pune University (also known as PUMBA or Pune University MBA), is one of the premier business schools in India. It is an autonomous department of the University Of Pune (that was recently renamed the Savitribai Phule University Of Pune). MBA++ is the flagship program at PUMBA. It is covered in 22 months and is distributed over six trimesters. The course has a credit system for the evaluation of students with 100 available credits across electives. Batch size = 180 students, which includes about 30 students from international regions of Korea, the Middle East, ASEAN, and Europe. This course features dual specialization, students can choose from the following – Finance, Marketing, Human Resources, Systems, Operations, and International Business. Apart from these courses the college also offers MBA in Pharma Biotech and Executive MBA.
The SOIL was established in 2008 when top executives of several corporations and spiritual thinkers got together to address the most difficult challenge of changing the reality of our current times, for a better tomorrow. SOIL was co-created by 32 leading companies and supported by 32 NGOs with the aim to build Leaders with character, competence and enthusiasm. The SOIL has graduated over 1400 alumni who are working across 300+ companies, startups, and social sectors across the globe.
Courses Offered:
Flagship 1-Year PGPM Program (For candidates with 2+ years of work experience)

1 Year PGPM in Human Resources (Freshers & Work experience are eligible)

2 Year AICTE approved PGDM (For candidates with 0-5 years of work experience)
Profile Shortlisting
At Soil, we focus on a Profile-based admission process and not purely an exam score-based one. The following parameters account for a SOIL shortlisting process.
Past Academic Performance




2. Work Experience




3. Awards & Achievements




4. Student Diversity




5. Entrance Test Scores – CAT, XAT, GMAT, CMAT (Only for PGDM. SOIL inhouse STAT leadership exam is considered for PGPM)
Evaluation Method (GEPI Round):
PGPM students are required to appear for the STAT Leadership Test which is a 60 min non-analytical test that gives insights into your personality and leadership skills. 
PGDM students are required to appear for a DT workshop (45 min) where students will work on real live short problems using Stanford D school-based Design Thinking tools & methods.
The key parameters that are evaluated during your GEPI round are
1. Motivation – Understanding of why SOIL
2. Attitude towards learning and goal setting
3. Communication Skills, teamwork & Energy
4. Leadership potential & Organisational skills
Application Deadlines for Admissions 2022
SOIL follows a rolling admission process. In each round of admissions, applications meeting eligibility criteria will be accepted & candidates will be intimated about the selection to the program.
Cycle 1 App. Deadline: PGPM & PGDM: 11 th Dec 2021
Cycle 2 App. Deadline: PGPM & PGDM: 22 nd Jan 2022
The Institute of Management Technology, Nagpur, also known as IMT Nagpur or simply IMTN, is a private business school located in Nagpur, Maharashtra, India. It was the second Institute of Management Technology (IMT) to be established, after IMT Ghaziabad. The school was established in 2004 by the industrialist Mahendra Nath. It is located on a sprawling campus of 27 acres on the outskirts of Nagpur. MBA++ is the flagship program at PUMBA. The course is covered in 22 months and is distributed over six trimesters. This course has a credit system for the evaluation of students with 100 available credits across electives. Batch size = 180 students, which includes about 30 students from international regions of Korea, the Middle East, ASEAN, and Europe. It features dual specialization, students can choose from the following – Finance, Marketing, Human Resources, Systems, Operations, and International Business.