Top Niche MBA Programs Colleges in India
Anisha Mukhija
Top Niche MBA Programs Colleges in India
MBA Programs, unlike the past, have seen a wide number of niche programs being introduced by various colleges. This is good as MBA would not only be restricted to the fields of Marketing, Finance, and HR but also management fundamentals will be applied in other segments such as Rural Management, Healthcare Management, Insurance Management, Forest Management, Telecom Management, Aviation Management, Disaster Management, Sports Management & so on. This article will give you a fair idea about the top niche MBA Programs providing colleges in India.
Also Read: Top Profile Based MBA Colleges in India
Let's look at some of the top colleges in the country providing Niche MBA programs:
The Faculty of Management Studies, Institute of Rural Management, Jaipur – FMSIRM, established, and led by SIIRM is a contemporary, smart and innovative institution and a leading research-led B-School in India. It is affiliated to AICTE, MoHRD, Govt. of India and is ranked A+++ among India's Top B-Schools & 1st among the Best B-Schools of Rajasthan, as identified by various surveys and studies.
The Xavier Institute of Social Service (XISS) was established as an extension department of St. Xavier's College, Ranchi, in 1955 with the objective of training young men and women in Rural Development, Personnel Management and Industrial Relations. In 1973 the institute was registered as a separate educational society under the Societies Registration Act, 1860. In 1978, it moved to its present site and over the years has developed its own distinct identity as a centre of excellence in management education, research, consultancy and development interventions.
What started with baby steps in 1981, NMIMS has today emerged as a globally reputed university. Always socially conscious, the Shri Vile Parle Kelavani Mandal (SVKM) made the decision to cater to the rising demand of management institutes in the country. This led to the birth of the Narsee Monjee Institute of Management Studies (NMIMS). It began humbly by offering a two-year full-time master's programme in management studies with 4 full-time faculty, 3162 books, and an intake of 40 students above Bhaidas Hall, Vile Parle (West), Mumbai.
WE School is a private business school in India, with branches in Mumbai and Bangalore. Mumbai is the older centre. One of the oldest establishments in the country. WeSchool, Bangalore was established in 2008 at Electronic City Phase -1 and has 3 full-time courses: PGDM, PGDM–E Biz and PGDM-Business Design & Innovation. WeSchool has programs such as Post-graduation in Business Management, Business Design, and Innovation, E-business, Retail, Healthcare, Rural Management, programs for Family Managed Business, initiated several partnerships with industry and international universities. In 2015, WeSchool received the 'AICTE -CII best industry-linked management institute' award. WeSchool is definitely your next best option when it comes to brand credibility and exposure you'll get. They are now slowly shifting they're shortlisted criteria and are also giving profile-based calls.
Qualifying Entrance Test percentile; Best of percentile in CAT, CMAT, XAT, ATMA, GMAT (2016 onwards) will be considered 35%. Academics (X, XII, Graduation, and Post-Graduation) Basic eligibility of 50% in graduation is mandatory 65%. Group Discussion and Personal Interview (this will evaluate the student's response to the essay questions in the form, work experience, if any, how you respond to the activities and questions posed in the GDPI and your personality characteristics etc. Sports, Extra-Curricular activities awards and achievements at District, National, International level, Academic diversity etc.
SP Jain School of Global Management is a leading Australian business school that provides modern, relevant and practical global business education. With campuses in the dynamic business hubs of Dubai, Mumbai, Singapore and Sydney, SP Jain Global is renowned for pioneering and offering the world's first tri-city undergraduate and postgraduate programs. For its flagship Global MBA program, the School has been ranked year after year by reputed international publications such as Forbes, Financial Times and The Economist. Globally intelligent and culturally agile, an SP Jain Global graduate is empowered with the skills and confidence to drive decisions and take on the global challenges of the 21st century.
Top management positions increasingly go to global citizens – people who have lived overseas, and, therefore, understand many business cultures. Get this edge with the SP Jain Global MBA (GMBA) program where every student lives in Dubai, Singapore, and Sydney – each a regional capital and a great backdrop for business education. The 12-month postgraduate program offers insights into some of the latest and most innovative areas of business management. It focuses on helping students appreciate, accept and adapt to different business and cultural environments.
Designed exclusively for professionals with 3+ years of work experience, the GMBA is an internationally-recognized program with a reputation that is built on superior standards of teaching, research, innovation and graduate outcomes.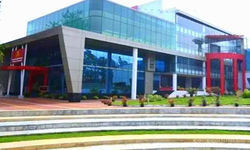 The PGDM curriculum is set apart by three distinct dimensions: Extensive corporate interface; unlimited knowledge access and an unwavering focus on the future. The PGDM program offered by one of the top PGDM colleges in Bangalore is very unique not only in its contents but also in its delivery.
They have 180+ companies coming on the campus and more than 91% of students getting placed.
Some Advantages:
Study abroad option available with International partnering universities
Dual Specializations to make student multi-industry ready
Electives taught by eminent faculty from Industry
Range of inspirational speakers from around the world
Exclusively designed course content at par with top international business schools
Case Studies, Live Projects, Movie Analysis, Fests participation, Foreign language course, International conference all and much more
This program is embedded in a learning community characterized by a strong research tradition and high quality professional teaching
Programmed to inculcate Innovation, Ethical Values & Nurture Holistic development
Smart student cohorts
Niche Programs @ISBR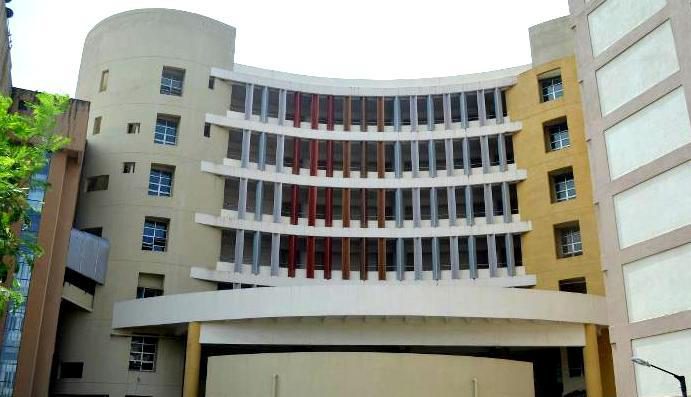 K. J. Somaiya Institute of Management Studies and Research was established in 1981 as a part of Somaiya Vidyavihar with the objective of providing state of the art education in management and allied areas. The institute is consiwstently ranked among the top 25 management institutes and top 10 private sector B-schools in India. The institute offers full time, part-time and executive programs in Business Management along with Masters in Computer Applications and Doctoral Programmes. The Institute is approved by the AICTE and accredited by the NBA. It has been certified by the Bureau Veritas. The Institute offers MBA, Executive MBA, MCA, and Ph.D. programs in various specializations. It has 131 highly-qualified and knowledgeable faculty members. KJ Somaiya also conducts various customized Management Development Programmes and Faculty Development Programmes.
Top MBA Courses Specializations offered are:
Retail Management: The economy today has changed drastically over the years. With digitization, it has become a lot easier to reach consumers. The purchasing power of today's population is also increasing with each passing day. This has bought an increase in the retail business. It has expanded extensively. E-commerce websites are in bloom with digitization. Merchandising, retail selling, IT, buying of retail, franchising, etc. are a few of the necessary skills required to get into a retail business or company. MBA in retail management courses is necessary to understand the industry completely and make a successful career in it. The blooming business of retail needs smart business minds and the course prepares the students exactly for that. They are imbibed with the qualities needed to handle retail management. With masters in retail management, each and every student gains perspective for a fierce and competitive market of the industry.  K. J. Somaiya's Institute of Management strives to create a better future for the students to make them the leaders in their respective fields of a career in the long run.
Sports Management: The fast-growing sports sector consisting of Athlete/Talent (also Rights & Licensing) Management, Sports Marketing/Sponsorship, Sports Tourism, Sports Digital Solutions, e-Sports, Sports Venue Operations and Management, Sports Analytics, is very diversified today and holds great potential for career opportunities. K J Somaiya Institute of Management and Somaiya Sports Academy with world-class sports facilities for on-ground experiential learning opportunities and international immersion opportunities readies students to become industry professionals in the multi-billion dollar global industry that is propelled by enormous consumer demand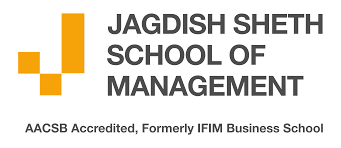 The Jagdish Sheth School of Management (Formerly IFIM Business School) is a business school in Electronic City, one of India's largest industrial parks in Bangalore.
It is an AICTE approved institution with an ISO 9001:2008 certification. The school is accredited by NAAC 'A' grade, Association to Advance Collegiate Schools of Business (AACSB) and SAQS (South Asian Quality Assurance System). JAGSOM's programmes have also been approved by the Distance Education Bureau, a department of the University Grants Commission (UGC) to offer its programs in distance mode. The PGDM Finance is recognized by the CFA Institute under its University Recognition Programme. The institute offers PGDM, Executive, PhD in the discipline of Finance, International Business and Management Development Program. JAGSOM has been ranked no. 26 in India amongst Best Business Schools by Business India magazine and has won Education World 'Higher Education' Awards.
Jindal Global Business School is the leading Business School in India renowned for premier education in business management with transformation being our overall aim
JGBS offers a multidisciplinary global business education to foster academic excellence through industry partnerships and global collaborations. JGBS seeks to make an impact through its various degree programs, executive education, research, and consulting. It promotes global courses and curriculum, global research and collaborations, and global programs and interaction through a global faculty.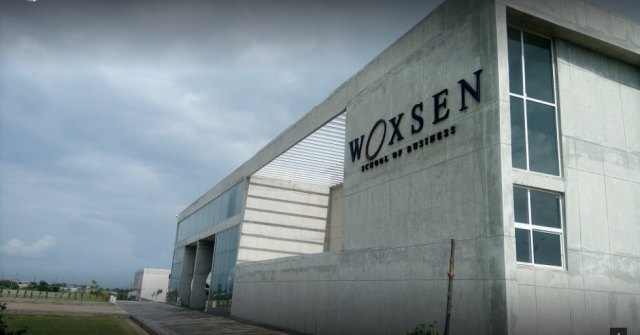 The potential of emerging technologies such as data science, artificial intelligence, and machine learning is outstanding. The power to transform the supply chain, customer engagement, and product/service design is ever-growing. Every sector is being impacted by this disruptive technology which has become a constant trend.
Harnessing its potential for the modern world requires a new set of professional skills. The new reality of the business world is driven by individuals with techno-commercial skills, with expertise to apply it to organizational needs and strategies while navigating the ethical, psychological and societal implications.
This is a first-of-its-kind MBA Program in Business Analytics. The program has been diligently designed to equip students with knowledge and skills in Business Science & Management, that dramatically enhance their ability to make informed decisions of high quality, by making the most optimal use of emerging technology. The program provides Dual Specialization in business sciences & business management. A corporate manager empowered with these decision-making tools is able to take advantage of the massive amounts of data capturing the preferences and habits of millions of customers and make decisions that would radically improve the effectiveness of managerial actions.
NLUJ is equipped with distinguished Professors of national repute with a good mix of highly qualified and experienced young associates. A number of our Faculty members are an alumnus from Universities of California, Oxford, Warwick, Sydney, King's College, London; University College, London; with working experience in foreign Law schools and International Institutions.
The faculty also includes Scholars of Fulbright and other Institutions. In addition, NLUJ invites distinguished Professors as visiting faculty for lectures. Under the NLUJ Alumni Visiting Faculty Program, some of our alumni who have acquired higher qualifications from prestigious Institutions and garnered varied experience share their learning on topics of Contemporary interest in law and practice for the benefit of the students.
Founded in the year 1982, the Indian Institute of Forest Management is a public, autonomous institute of sectoral management located in Bhopal, Madhya Pradesh. Headed by an appointee by the Ministry of Environment, the main objective and aim of IIFM are to meet the growing need of managerial human resources in natural resource management, environment and the allied sectors.
IIFM is ranked 60 in a list of India's list of Management Institute by the National Institutional Ranking Framework. Overall, the institute is ranked 8th in the country by the Ministry of Human Resource Development.
Hope you got a fair idea about Top Niche MBA Programs Colleges in India