Trump's Proclamation: Will Studying Abroad become a challenge for Indian students wanting to study and work in the US
Aishwarya Pandey
.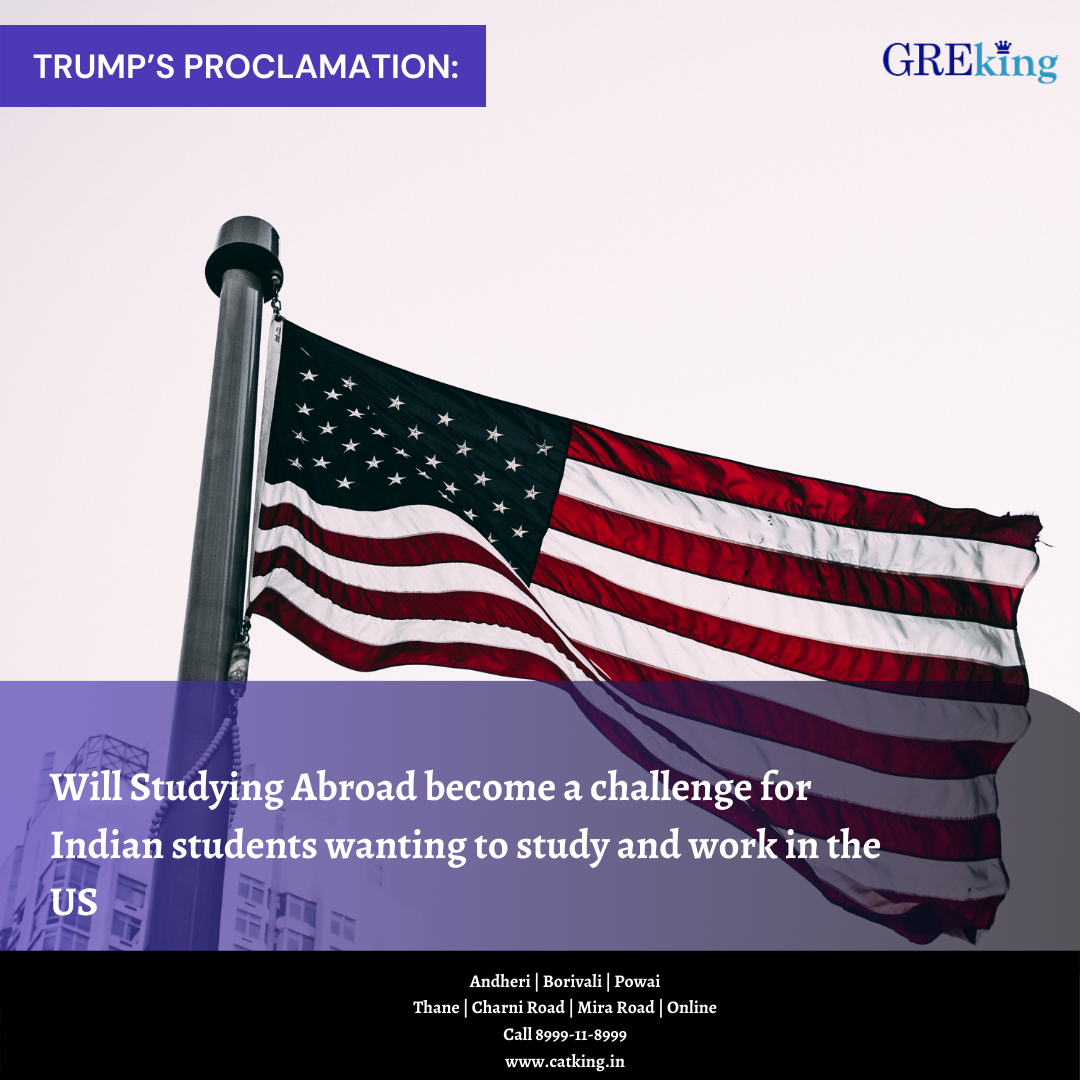 Trump's Proclamation: Will Studying Abroad become a challenge for Indian students wanting to study and work in the US
Ever since Trump has rolled out his decision to curb H1B Visas, Indian citizens have become immensely vulnerable to the crisis. And so has studying abroad. The pandemic situation leading tonnes of people to lose their jobs in a slew of countries. This decision of Trump (supposedly attributing to Politics) comes as a bust and can lead to a huge backlash not only in the country but worldwide.
Although experts believe it will lead to losing a lot of talent and jobs, whether or not this decision will PROVE to be fruitful to America, only time will tell.

We are here to bust your myths answer your queries regarding studying abroad.
What would be my job prospects after studying abroad, given the current situation?

Although the current situation may leave us in despair, losing jobs may not be the only case. In fact, it is might increase by notches. And thus studying abroad may turn out to be fruitful like most other times. Most of the tech giants all over the globe will be hiring more employees. Namely: Youtube, Airtel, Diageo, Lego, Amazon, Microsoft, Capgemini, Internshala, Barclays, Abbot, Aditya Birla Group, Payu, Microsoft, Apple, Noise, Pepsico.
So if you have the required skills, landing a job is not going to be an issue.

With the right education skills hard skills soft skills experience in education grades, one can land himself a good job since the market will grow. So if you are considering seeking a job in the US or any other foreign country go for it.
Also Read: Strategies to score better in GRE DI
 
Do we still need to take the test now when a lot of schools have measured optional MBA/MS, SAT/SRE?
Due to the Covid-19 situation, many schools have relaxed the necessity of taking a GMAT or GRE test. They have an option for fall 2020 and spring 2021 however, the same is not true for fall 2021. With many b-schools ruling out the necessity of taking a GRE or GMAT test many are getting demotivated to take the test however we suggest you take the test with the same intensity as you would take all your consider this as savings you don't need to save now.
However, if you do, it will only be beneficial for you shortly. Also remember if you do not take the test other parameters of your CV will become highly important as B schools stress upon extracurricular activities, college essays, recommendation letters, demonstrated tests, your previous academic grade is extra so to be on the safe side it is always better to take the test and improve your overall performance.

I am not planning for the US, Canada, Australia, the UK in the given scenario.
What do you suggest?

Diversity is imperative when it comes to studying abroad. One should not rule out the options he or she may have in other countries. However, we suggest not eliminate the US from its options. The US is expected to be the fastest recovering country post-COVID.
I want to postpone the plan due to uncertainties. Having budget constraints, should I secure my job now and wait for 2 to 3 years for things to settle?
It is quite understandable to postpone the exams or studying abroad altogether, given these difficult times and financial constraints. However, it must also be stressed upon that with this COVID situation more students are getting free time in their hands. Offices have availed work from home and so has schools and other institutes, as a result of which the employee or student is left with a lot of time which can be utilized to improve one's CV.
We suggest you work upon your CV and prepare for GMAT or GRE now. You must utilize this time in the most productive way possible. Plus you have the option of taking these tests at home.

My parents are worried about my plans of studying abroad. Will it be not a better idea to do a bachelor's here and then think of a master's abroad?

Foreign education policies are different as they are formulated by a global mindset. They are quite superior in a lot of areas to the Indian universities and colleges. This is the reason why millions of people choose to study abroad. Having done your undergraduate there will not only help you comprehend the education pattern. But will also help you be in tandem with your chosen subjects and pedagogy of studying.
Also if your final plan is to settle there do a job there or do a Masters's from a foreign university then we suggest you give your SRE and SAT and you're under graduation from abroad. The tandem of the subjects under graduation and Masters's will help you grow better. Besides, many top universities of India, namely OP Jindal University, Shiv Nadar University, flame University, Ashoka, and Manipal University also accept the GMAT score.
Fields of study
What careers and Fields of study I should opt for whilst studying abroad, to be ready for the post COVID period?
AI and Data Analytics are future technology that has changed the world. And this Revolution requires technically sound people, one is struggling to acclimatize themselves with skills like computer engineering, electronics, industrial engineering, Data Analytics finance economics, and Healthcare management, etc. Although it completely depends on the individual, we suggest these subjects as they have universal importance and acceptance. Also, if studying abroad is your actual dream and you are willing to do whatever it takes, refer to the site to arm yourself. GREKing



Hope you found the article useful. All the best!!