MS or MBA-Which is better for Study Abroad?
Aishwarya Pandey
Every year thousands of aspirants attempt the GRE exam for getting a shot at their dream graduate colleges worldwide. However, many students who are planning to study abroad for their masters face difficulty in choosing  between MS and MBA courses. There are genuine reasons for this quandary. Both courses offer ample opportunities to build a rewarding career with increased monetary benefits, chance to work in multiple locations, and also gain industry-relevant skills. However, for your study abroad plans the first thing you should remember is both courses test and plus how long does it take to get a masters degree accordingly build different skill sets.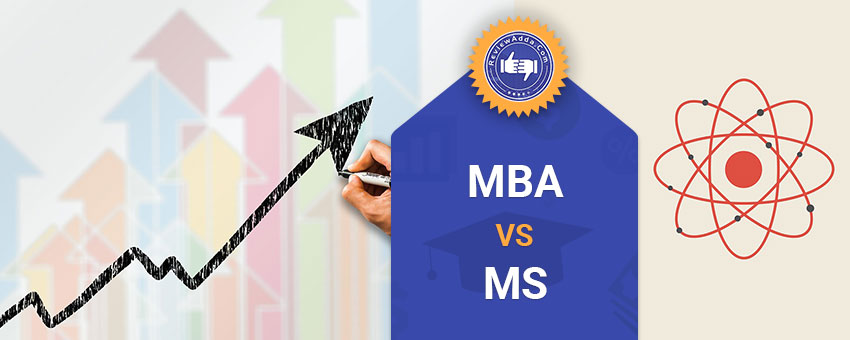 In this article, we will give a brief about each course along with the opportunities available for both. We will also talk about the eligibility criteria for each course and the basic pointers you should keep in mind for your study abroad decisions.
MASTER OF SCIENCE (MS)
Master of Science (MS)  is generally a full-time 2-year course which is designed for furthering your knowledge in your chosen subject. Typically Master of Science is for subjects in the field of engineering, medical, technology, science, and mathematics.  However, further studies in some social science and humanities subjects like economics, sociology is also given an MS degree by some institutes.
Some of the most popular MS degrees for study abroad include MS in Computer science, Information Systems, Engineering, and Data Science. Considering it is more of a technical degree, many students who pursue an MS degree abroad chose to continue in academics. So popular options include enrolling for Ph.D., working as a research assistant in reputed universities, starting a research career, joining software companies in technical positions, etc.
The salary increases substantially after completing an MS degree abroad. As per the research done by the United States Department for Labor and Bureau of Labor Statistics, the average salary for a student with an MS was around $68000 as compared to $56000 for a student with only a bachelor's degree.
Also Read: Best Courses to Opt For Good Internal Jobs
MASTER OF BUSINESS ADMINISTRATION (MBA)
Masters of Business Administration or MBA is a degree that teaches you about the functioning of business and management. It is a professional degree and aims at the holistic development of different skills.
Main subjects under Master of Business Administration (MBA) include finance, marketing, operations, human resources, financial accounting, supply chain management, etc. The MBA course can be a full-time 2-year course or in some universities, a full-time 1-year course. Many management courses are designed for executives in the mid of their careers. These are mostly online and distance learning or short term courses.
How long does it take to get a masters degree, An MBA degree has significant chances of increasing the employability of a student planning to go for study abroad. MBA degree holders will get managerial roles in various prestigious industries. Some examples include investment banking, private equity, business development, brand management, etc.
The average salary of an MBA graduate starts from around $89,633. However, there are other bonuses and compensation.
Major Differences between MS and MBA 
While planning for your Study Abroad courses, first know the major differences between MS and MBA. This will help you in making an informed decision, and even clear your doubts regarding and how long does it take to get a masters degree.
1) The objective of the course
The primary difference is in the focus areas of the two courses. While MS aims to increase your subject knowledge, streamline it, and help you gain more in-depth insights; MBA focuses on imparting skills required for conducting businesses. The MS is a technical course and requires specific knowledge of a subject. The MBA is a professional course requiring no specific training.
2)Duration
Both the courses generally take 2 years to complete. However, for MS, the duration is more strict. In MBA you get options between different duration of courses.  Some universities offer integrated courses in MS which comprise of Ph.D. too and is of 5 years. Even though the course is generally of a minimum of 2 years, the system is flexible. That is if you can complete more subjects in a lesser span of time, your MS will be done early.
Also Read: 8 Study Abroad Benefits You Must Know
3)Work Experience Requirement
Most MBA programs require candidates with prior work experience. This is because if you have a basic knowledge of how organizations perform, you can better apply the theories and concepts taught in class. Harvard Business School, Stanford Graduate School of Business, Wharton University all have candidate work experience requirement of 3-5 years for their flagship programs. Business schools like INSEAD and London Business Schools have higher requirements in terms of work experience year. For many of this colleges, this point is not stated exclusively, so make sure to consult with fellow aspirants and mentors before planning for your study abroad.
For MS degree there is very little to no weightage on work experience.  In MS the focus is mostly on academic learning, so the relevant qualifications and academic research matter more.  So for a fresher who just completed graduation in any subject and wants to do Masters directly after that, an MS program will be easier to get into than an MBA.
4) Eligibility
The MS degree enhances your knowledge in a particular subject/ stream. So if you want to do Masters in Electrical Engineering, your course will include subjects like control systems, circuit theory, power system, digital electronics, embedded systems etc. Only if you have studied these subjects before, you will be able to grasp the more complex concepts. So though not stated explicitly sometimes, it is implied that you will have an undergraduation degree in the relevant stream before applying for MS.
For MBA, there is no requirement as such. MBA focuses on developing overall aptitude, business accumen of students, so academic background is not a concern. In general, business schools have very diverse student profiles. You will find very few students with a previous degree in business like BBA or B.Com.
Factors To Consider While Choosing 
The defining reason behind any of your study abroad plans. From this article you have understood the details of each degree and its offerings. If you want a business degree and work in such roles as brand manager, business consultant, then MBA is the correct degree for you. However, if you want to continue your career in the technical field , then MS is a better option. Figure out your career objective accordingly choose courses.
Opportunity

Cost and Monetary Aspects
Let's not deny it. For any plans of study abroad, you need significant financial backing. Besides you have to consider the opportunity cost of leaving your current job if you have it, pursuing the degree from your country, and looking for job prospects instead of pursuing masters. So if you do not have any specific career goal to follow, compare the cost of studying both the degrees before making your decision.
As per data, the cost of studying an MS degree in US ranges between $30000 to $50000 annually. Whereas the cost of an MBA can be higher. It is usually in the range of $60000 -$70000 annually.
Like we mentioned in the begining of the article, these options and factors are based on historical experiences of and how long does it take to get a masters degree students studying abroad. Your reasons and inspiration can be completely different.
So do your GRE preparation well, focus on your career goals and you will do good.
All the best! Carpe Diem!